https://www.aafp.org/afp/2010/1101/p1075.html
Nongenital herpes simplex virus type 1 is a common infection usually transmitted during childhood via nonsexual contact.
Most of these infections involve the oral mucosa or lips (herpes labialis). The diagnosis of an infection with herpes simplex virus type 1 is usually made by the appearance of the lesions (grouped vesicles or ulcers on an erythematous base) and patient history. However, if uncertain, the diagnosis of herpes labialis can be made by viral culture, polymerase chain reaction, serology, direct fluorescent antibody testing, or Tzanck test. The differential diagnosis of nongenital herpes simplex virus infection includes aphthous ulcers, acute paronychia, varicellazoster virus infection, herpangina, herpes gestationis (pemphigoid gestationis), pemphigus vulgaris, and Behçet syndrome. Oral acyclovir suspension is an effective treatment for children with primary herpetic gingivostomatitis. Oral acyclovir, valacyclovir, and famciclovir are effective in treating acute recurrence of herpes labialis (cold sores). Recurrences of herpes labialis may be diminished with daily oral acyclovir or valacyclovir. Topical acyclovir, penciclovir, and docosanol are optional treatments for recurrent herpes labialis, but they are less effective than oral treatment.
Pathophysiology
HSV invades and replicates in neurons, as well as in epidermal and dermal cells. The virus travels from the skin during contact to the sensory dorsal root ganglion, where latency is established. Oral HSV-1 infections reactivate from the trigeminal sensory ganglia, affecting the facial, oral, labial, oropharyngeal, and ocular mucosa.
Recurrent infections may be precipitated by various stimuli, such as stress, fever, sun exposure, extremes in temperature, ultraviolet radiation, immunosuppression, or trauma. The virus remains dormant for a variable amount of time.
Oral HSV-1 usually recurs one to six times per year. The duration of symptoms is shorter and the symptoms are less severe during a recurrence.
Clinical Presentation
In primary oral HSV1, symptoms may include a prodrome of fever, followed by mouth lesions with submandibular and cervical lymphadenopathy. The lesions usually heal within 10 to 14 days.
In recurrent herpes labialis, symptoms of tingling, pain, paresthesias, itching, and burning precede the lesions in 60 percent of persons. The lesions then appear as clusters of vesicles on the lip or vermilion border. The vesicles may have an erythematous base. The lesions subsequently ulcerate and form a crust. Healing begins within three to four days, and reepithelization may take seven to eight days.
Herpetic keratitis is an HSV infection of the eye. Common symptoms are eye pain, light sensitivity, and discharge with gritty sensation in the eye. Slit lamp need.
Herpetic whitlow is a vesicular lesion found on the hands or digits. It occurs in children who suck their thumbs or medical and dental workers exposed to HSV-1 while not wearing gloves. Herpes gladiatorum is often seen in athletes who wrestle. Herpetic sycosis is a follicular infection with HSV that causes vesiculopapular lesions in the beard area. It is often caused by autoinoculation from shaving.
HSV infection is one of the most common causes of erythema multiforme.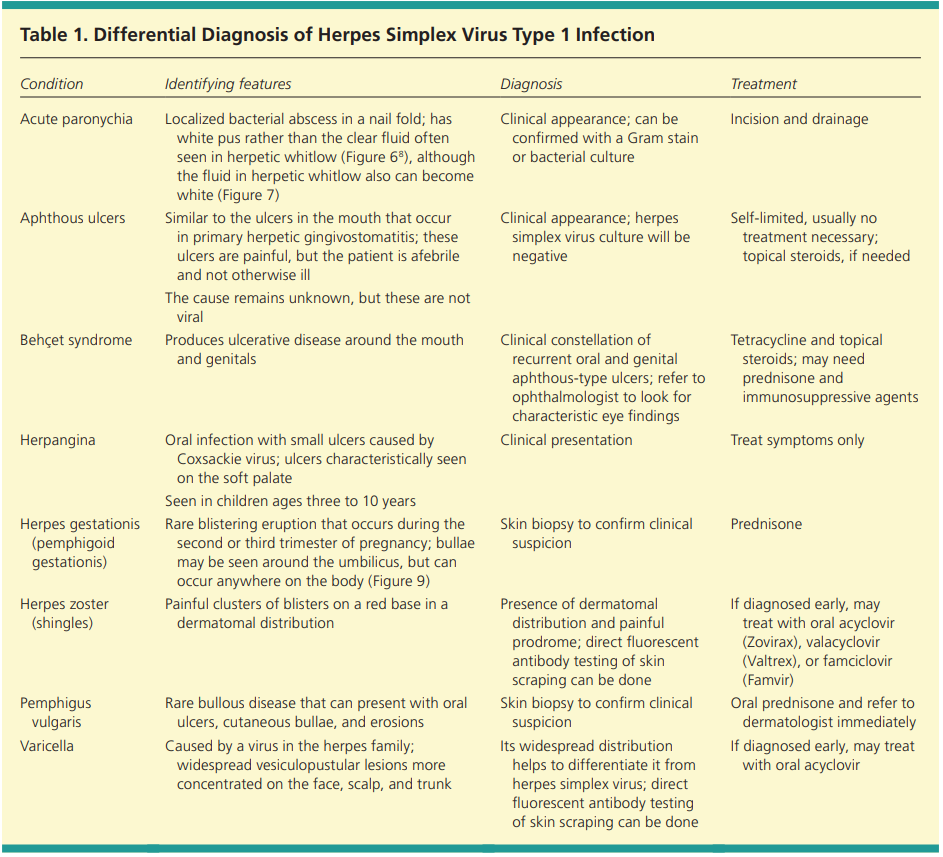 Diagnosis
by the appearance of the lesions and the patient's history. if the pattern of the lesions is not specific to HSV, its diagnosis can be made by viral culture, PCR, serology, direct fluorescent antibody testing, or Tzanck test. Viral culture should be obtained from vesicles when possible. The swab should be sent in special viral transport media directly to the laboratory (or placed on ice if transport will be delayed).
Management
EPISODIC ORAL TREATMENT FOR PRIMARY HERPETIC GINGIVOSTOMATITIS
Oral acyclovir suspension (Zovirax; 15 mg per kg five times per day for seven days) can be used to treat herpetic gingivostomatitis in young children. Children should be treated symptomatically with oral analgesics and cold, soothing foods such as ice pops and ice cream.
EPISODIC ORAL TREATMENT FOR RECURRENT HERPES LABIALIS
table
The patients took oral valacyclovir (2 g twice for one day) and applied clobetasol 0.05% gel (twice per day for three days) at onset of symptoms. - good result
EPISODIC TOPICAL TREATMENT FOR RECURRENT HERPES LABIALIS
Topical treatment for herpes labialis is less effective than oral treatment.
Treatment with docosanol cream, when applied five times per day and within 12 hours of episode onset, is safe and somewhat effective. OTC
ORAL TREATMENT TO PREVENT HERPES LABIALIS RECURRENCES
Oral acyclovir is effective in suppressing herpes labialis in immunocompetent adults with frequent recurrences.
oral acyclovir (400 mg twice per day)
oral valacyclovir (500 mg per day)
patients receiving treatment for cancer, acyclovir was found to be effective in the prevention of HSV infections. In another study, daily valacyclovir (500 mg per day) and acyclovir (400 mg twice per day) were equally effective in the prevention of recurrent HSV eye disease.